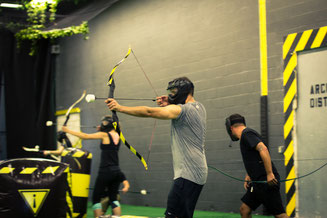 Who would you rather be? Katniss Everdeen, Hawkeye, or Legolas?
In last couple years, archery has become increasingly more popular with the release of movies like The Hunger Games and The Avengers. I have always loved the sport, but it was about time for a re-vamp!
Created in the U.S., Archery Tag hit with force, becoming an exciting new sport that was easy to learn, and way less painful than paintball. 
It is the cross between archery and dodgeball, with the thrill of paintball. Two teams line up on their end zones with a bow slung over their shoulder. Arrows line the middle of the field, and bunkers are dotted around. On the whistle, everyone charges and the arrows start to fly.
Now, before you start thinking this is a horribly dangerous activity, all arrows have marshmallow like tips, and everyone is given a face mask. Being hit by one of these arrows will not leave you bruised and battered like in paintball, but you will definitely feel the adrenaline pumping.
What do you think? Would you ever try Archery Tag? 
Comment below, and share with friends!