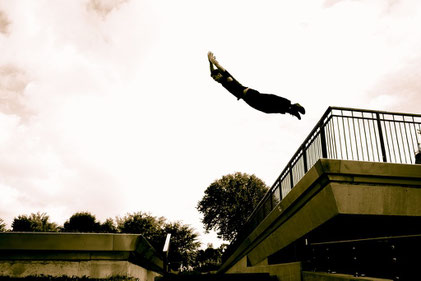 Run, jump, flip and roll.
Is that the easiest way to get from point A to point B? Probably not, but it is a whole lot more fun. Why walk when you can get creative and push yourself to try something absolutely crazy.
Hard core parkour! The statement usually yelled out as I jump off a bench two feet from the ground, has always been a fascination of mine. The ability to let yourself break free from fear and try something where there is no right or wrong way, is a challenge. 
The basic movements of Parkour have been around for many generations and was often used in military training, but it wasn't until the early 2000's that it really took off.  
In 1998, David Belle developed the first group that would take this "sport" to the next level. Designed to be the fastest way to run through obstacles, Parkour not only challenges you physically, but mentally as well. 
"Parkour" originated from the French word: parcours, which is the act of moving quickly through an area. These movements include: running, climbing, swinging, vaulting, and really anything thing else you can think of. Usually done in an urban setting, parkour requires no equipment, just a pair of running shoes and heaps of confidence.
Personally, parkour would be one of the most challenging and terrifying activities, but some things are worth a try.