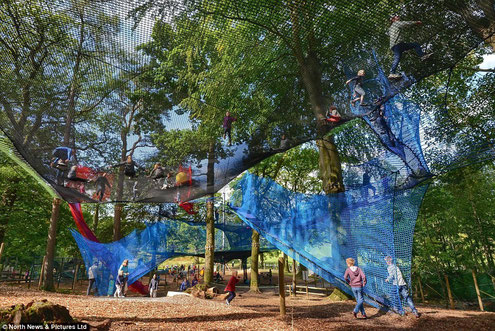 With the beautiful spring weather finally returning, it is time to head outside. It is definitely easier to get active and be adventurous when you can put down the umbrella and take off the rain boots.
I am going to take a leap of faith with our next activity, especially if heights are not your forte.
Trampolines have always been a staple in my childhood, and seeing how high I could bounce my friends was essential to the experience. Now lets move that trampoline 30 feet up and we have a thrilling new activity.
Tree Top Nets!
Now heights have never been a huge challenge for me, but there is nothing like bouncing through the trees 9 meters off the ground to get you heart pumping, and your hands sweating. 
TreeTop Nets is the first trampoline park to open in the UK, with over a dozen more world wide. With over 1500 m2 of trampolines, the tunnels, walkways and slides will take you on an exciting tour through the oak tree canopy in Brockhole, Windermere, England. 
Designed and created by a group of sailors and  ex-fishermen, the park was completed in only six weeks using ropes and nets used for sailing. 
Without a harness, this adventure is at the top of my list of exciting things to try, even if it is specifically designed to look like a children's playground.