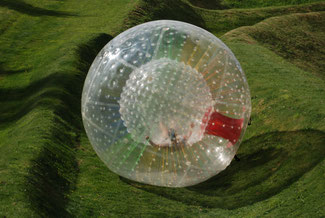 Next on our tour of adventurous activities, we stop in New Zealand for a look at the first inflatable craze that swept the globe. Zorbing!
This is Bubble Ball to the extreme. If you have ever wondered what it might be like to live as a hamster and run in a plastic ball, then it is time to check this off your bucket list.
Also known as orbing or sphering, these attractions have been popping up all over the world. There's just no stopping this strange sport. 
Zorbing was first introduced in 1994 in Rotorua, New Zealand by Dwane van der Sluis and Andrew Akers. There is an inner and outer bubble with a cushion of air between them to act as a shock absorber, and reduce the risk of injury. Once you are in, the ball is rolled down a hill. 
Interesting, right?
Usually, the hamster ball is used on gentle rolling hills, but if you feel this is not crazy enough for you, there are options. Try going without a harness, or adding water inside the Zorb®. Still to boring you say, well do not fret. Replace New Zealand's beautiful rolling hills with a steep snowy mountain side. 
Now that is a recipe for an exhilarating ride.
People are definitely pushing the limits when it comes to zorbing. From the water, to the mountain, to zero gravity, there is no telling what will be next for this strange and wonderful sport.