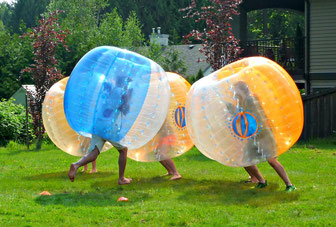 Have you ever wished that you could find a subtle way to full body check a co-worker, or relieve stress in a more interesting way? Bubble Soccer is the answer!
Encouraging full contact and massive hits, bubble soccer has taken the world by storm. From its humble beginnings in Norway, Bubble Ball innuendoes are now being made all over the world including: China, New Zealand, America, England and or course, Canada. 
It came from the imagination of Henrik Elvestad and Johan Golden who created it for their show, Golden Goal. It was an instant hit! It was featured in 2011, and now has over 6 million views. 
Hesitant at first, most players find themselves short of breath, simply from laughing. Rarely do you find an activity that is as fun to watch as it is to play.
But how do I find the time in between work, studying, and exercising you may ask. Well, at 25 pounds for each ball, skip the gym and throw on a bubble! I guarantee it is more exciting than the treadmill.
So, if you are looking to push your boundaries even the slightest, Bubble Soccer might be for you. Don't be deceived by the name though. Absolutely zero soccer skills are required. When the whistle blows, often the most exciting action is nowhere near the soccer ball.
Coming up next: Zorbing. It's bubble ball, to the extreme!