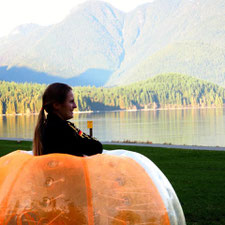 When was the last time you tried something for the first time?
Finding the time to try something new can be difficult. Life is busy, and things get in the way, making it a struggle to get active and find the time to try something out of the ordinary.
Unfortunately in our world, work usually takes precedent over having fun, earnings are put away for the "future", and the end goal is to have a comfortable life when retirement comes. But that means 30% of our life is spent working.
So what will you do with the other 70 percent? (Besides sleep!)
My name is Amber, and I created Stellar Play exactly one year ago with the hope of helping people get out of their comfort zone and try something new. It has introduced me to many interesting people all over the Lower Mainland. Some are adrenaline junkies who are constantly seeking to get a thrill, but most were people just interested in trying something new that will get them out of their daily routine.
Cue the blog.
Every two weeks, this blog will feature exciting new and unique activities that people around the world are trying; activities that get them active, trying something new, and meeting new people.
My hopes are that this blog will inspire you to get out there and experience some of the craziness that the world has to offer or at least start thinking about it.
If you are going to try something new and exciting, something out of your comfort zone, let me know and I would love to feature it here. If you have any comments or ideas you would like to see, comment below.